Frogs in winter can be challenged
Ever wonder where the frogs and toads go in the winter?  They are "ectothermic" or cold-blooded animals that depend on the environment to maintain their body temperature.  So where do they hide to avoid being frozen solid in a place like this?
The answer depends on which species you are talking about.  And before we can address that, we need to describe what's available in the winter environment.
Three choices for a winter home
There is water.  Water would do frogs absolutely no good if it froze solid, but water has the unusual property that ice floats on the surface.  It is less dense than the water it is floating on.  In fact, water becomes more dense as it cools down to 39.16° F.  Then it become less dense the colder it gets until it freezes at 32°.  That means that the temperature of the water at the bottom of a lake or pond will be 39.16° F because the most dense water will sink to that level.
There is earth.  The earth can become cold and freeze during cold weather, but only on the surface down to the frost line.  You see, the earth is a huge heat sink that is not easily frozen.  Below the frost line, the earth stays at a constant temperature - usually in the high 50° F range.
There is debris.  The forest floor is covered with leaves, rotting logs, rocks and stone.  Although these are not great insulators, they provide some protection from the wind and winter precipitation.
Frogs and toads in Arkansas hibernate in the winter.  Their metabolism is greatly reduced or shuts down completely during hibernation.  They find a place to "sleep" out the winter in a shelter called a "hibernaculum."  So which frogs and toads select each type of shelter?
Where do individual species go?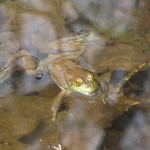 Aquatic Species - This includes the American Bullfrog, Green (Bronze) Frog, Pickerel Frog, and Southern Leopard Frog.  These four will dive down to the bottom of the pond, lake, or stream and settle in to the mud and silt for the winter.  The water and ice above them are great insulators against the winter.  They stop breathing with their lungs, and blood is increased to the permeable skin where oxygen is obtained directly from the cold water ("cutaneous respiration").  Their legs are "spread eagle" to keep them in place.  Their second eyelids (nictitating membranes) are pulled up over their eyes which sink deep into their cranial cavities for protection.  They don't get under the mud because there is not enough dissolved oxygen in it and they would suffocate.  Their hearts continue to pump a small amount of blood, but they don't eat and spend the winter in a state of torpor.  By the way, Bullfrog and Green frog tadpoles will also over-winter at the bottom and fed on plant material and detritus (waste material).
Toads - This includes the Dwarf American, Fowler's, Western and Eastern Narrow-mouthed toads, and the three Spadefoot species.  Toads will take advantage of the warm earth below the frost line by digging a burrow (or borrowing one from another animal).  Their metabolism cuts way back, but they continue to breathe and pump blood.  The Crawfish Frog also stays in a burrow all winter.  Unlike the aquatic frogs, these toads, spadefoots, and Crawfish Frog do not assume a "spread eagle" position, but keep their limbs close to their bodies.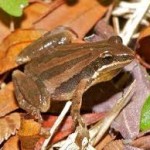 Treefrogs - This includes the Bird-voiced, Cope's, Gray, Green, Spring Peeper and Squirrel treefrogs, the Boreal, Cajun, Illinois, and Strecker's chorus frogs, Blanchard's Cricket Frog, and the Wood Frog (which is not a tree frog).  These frogs find hibernacula on the forest floor.  They pull their limbs in, protect their eyes, and shut down under leaf litter, in rotting logs, in a shallow burrow or in cracks and crevices of rocks.  Their bodies produce a kind of glucose antifreeze that keeps their vital organs from freezing, but in many cases their bodies appear to freeze solid - like frogsicles!  Wood Frogs in particular can exist in this mostly frozen state north of the Arctic Circle!  In the spring, these frogs thaw from the inside out.  Foxes like to scratch through the leaf litter in search of a frozen frog treat.